Diergaarde Blijdorp Maintenance Process
Diergaarde Blijdorp Maintenance Process
Have you ever wondered how an Enterprise Asset Management (EAM) software could be used to optimize maintenance processes in a large organization like a zoo? In this case study, we explore how process mining and our expertise helped Diergaarde Blijdorp, Rotterdam's iconic zoo, to identify the gaps between their maintenance process design and reality. Despite having an EAM software for over ten years, the zoo was still struggling with reactive repairs, forecasting budgets, and low user-adoption. Read on to find out how Apolix used process mining to provide actionable insights and help the zoo simplify their EAM and improve user-experience.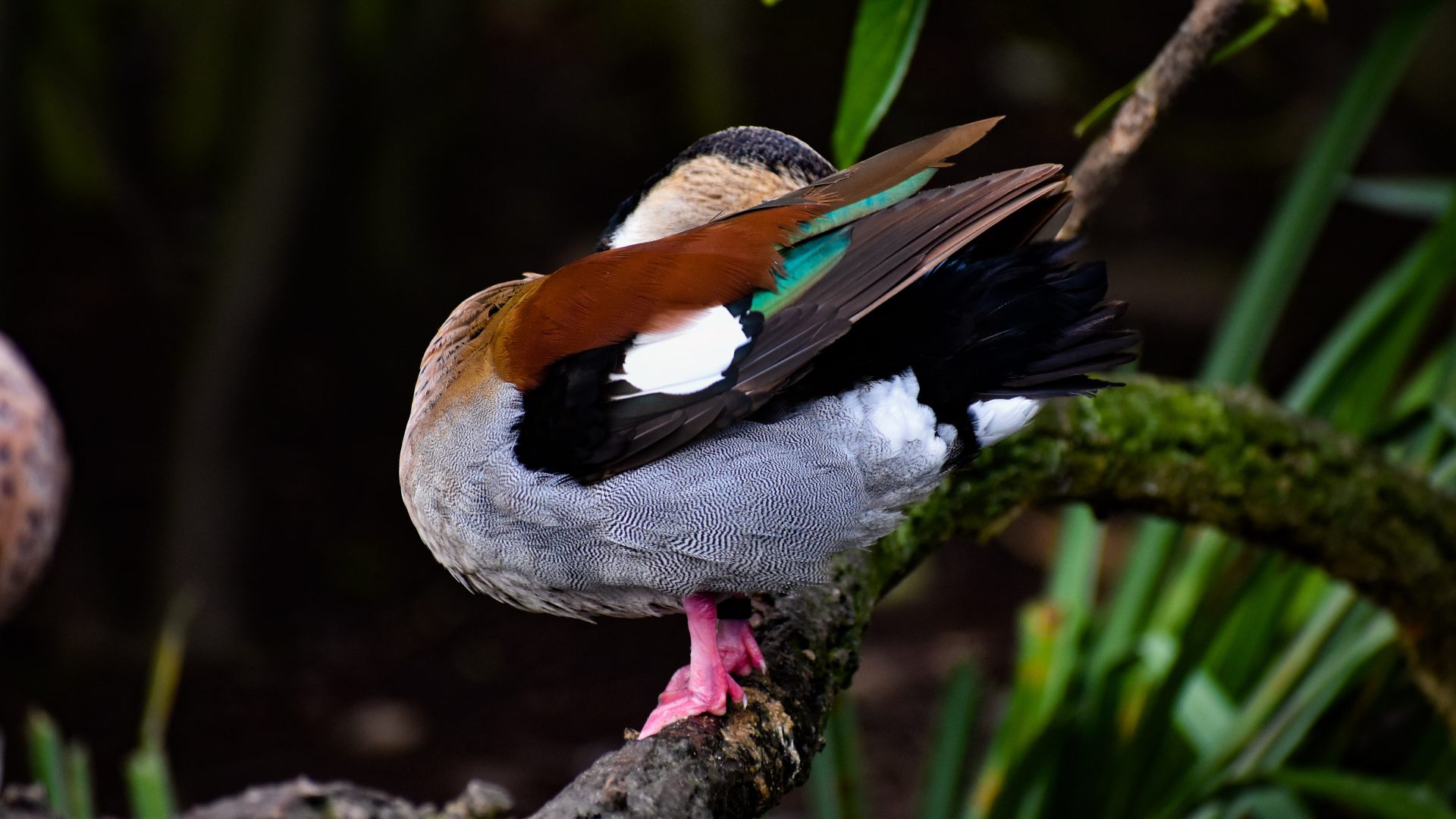 ---
Process mining can add value to any kind of industry, process, or organisation. The successful project Apolix did for Rotterdam's iconic zoo, Diergaarde Blijdorp, is a great example of this. As a result of the corona measures Diergaarde Blijdorp has been closed most of 2020. These unprecedented times take a large financial constraint on many organisations; therefore, we were very proud to be able to help with analysing and optimising their maintenance process.
Process Discovery
Within a zoo it is incredibly challenging to keep track of all reparations, due to its size, installations, team members and external vendors. To tackle this problem Diergaarde Blijdorp bought an Enterprise Asset Management (EAM) software over ten years ago. The goal was to fully understand what is happening, when steps are taken, and why people make certain decisions within the maintenance process. The zoo believed this control would boost efficiency, ensure accurate budgeting and ultimately save costs.
With the EAM software, Diergaarde Blijdorp standardised their process and gained the ability to track individual tickets, hours and costs. Within their EAM, employees create tickets to notify maintenance team when something breaks. The employee's manager checks the validity of the claim and approves the ticket. Here, the maintenance team researches the issue and assigns an internal mechanic or requests the support of an external vendor. Once resolved, the ticket is closed, and the employee receives an update notification. It seems straightforward; however, it turns out that in reality this is not the case.
Over ten years later, it remains hard to keep track of tickets, budgets are difficult to forecast and most reparations are reactive rather than proactive. Despite the fact that Blijdorp is aware of the improvement potential, it does not know what exactly goes wrong and why. In order to pinpoint what is happening, we conducted a Process Mining on their maintenance process!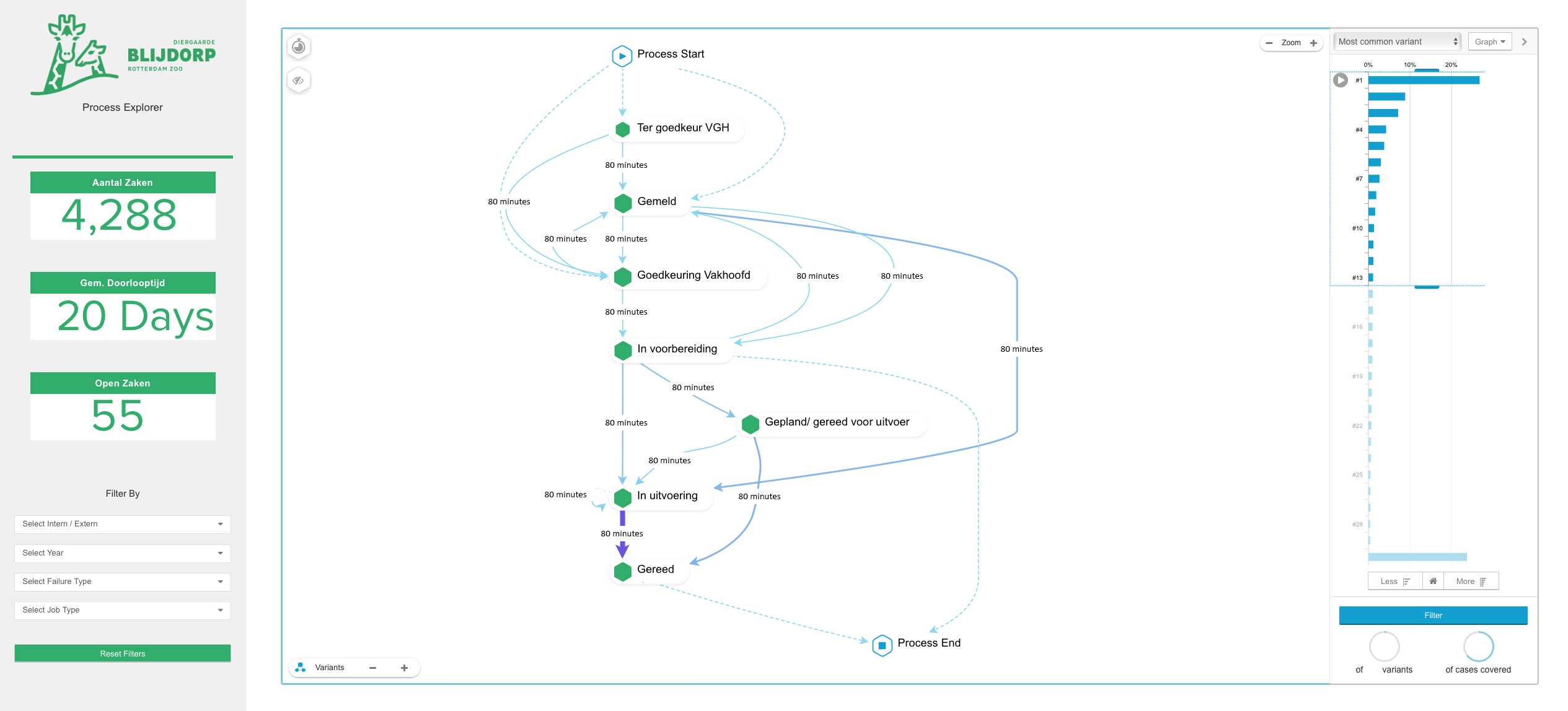 Process Flow Maintenance Process – Numbers are randomised for privacy reasons.
Process Mining the maintenance process
Based on our analysis, we discovered two main issues. First of all, the true complexity of the maintenance process, and second, lacking user-adoption of their EAM.
The number of different routes a ticket can take through the process, with inefficient steps and the repetition of activities, confirms Blijdorp's gut feeling. We highlighted how a lack of information resulted in a job being sent back. As a result, an employee has to manually request for more information, often that means calling as employees do not log into their EAM daily. Then the new information has to be written, send and evaluated. All these steps cause delays, extra costs, wasted hours, and is frustrating for all parties involved.
Regarding the second issue, a system needs both value and adoption to reach its goals. With Process Mining we uncovered the missing data in the system, resulting from complexity in the system and low user adoption. EAM's have a wide range of functionalities to save costs, ensure accurate budgeting and have control over the process. However, with missing information on worked hours, costs, repaired installations and items, the head of maintenance lacks the ability to make proper use of the system. Moreover, the zoo cannot enjoy the cost savings and predictable workload when a switch from reparations to preventive maintenance impossible.
Without Process Mining it is a challenge to accurately pinpoint each of these issues. Therefore, Process Mining becomes essential to provide insights and recommendations such as simplifying their EAM and more employee training.
The process mining solution of Apolix shows us exactly where improvements need to be made to enjoy the full benefits our information systems!
– Ron Doddema, Head of Maintenance @ Diergaarde Blijdorp, Rotterdam Zoo
Actionable Insights
At Diergaarde Blijdorp we identified the gap between design and reality. Consequently, we kept focus to show what is going and provide actionable insights. Ron, the Head of Maintenance, recognised the majority of these issues, however, has never been able to quantify his pain. With the project Ron has a strong case to improve both their EAM and user-adoption.
The next steps for Diergaarde Blijdorp are to rethink the use of their EAM and enhance adoption through improved user-experience. We are honoured that the zoo asked us to conduct this improvement project. We are looking forward to our collaboration with Diergaarde Blijdorp.
---