How Process Mining can Support Successful Digital Migration to (S/4HANA)
In recent years, firms are engaging in digital migration to hold a competitive position within an interconnected world which allows firms to improve operational efficiency and leads to better productivity. With support for SAP ECC R3 disappearing in the coming years, many companies are preparing for a migration to S4HANA. Process mining can play a key role in facilitating digital migration through process standardisation, understanding the current processes and harmonising the MDM.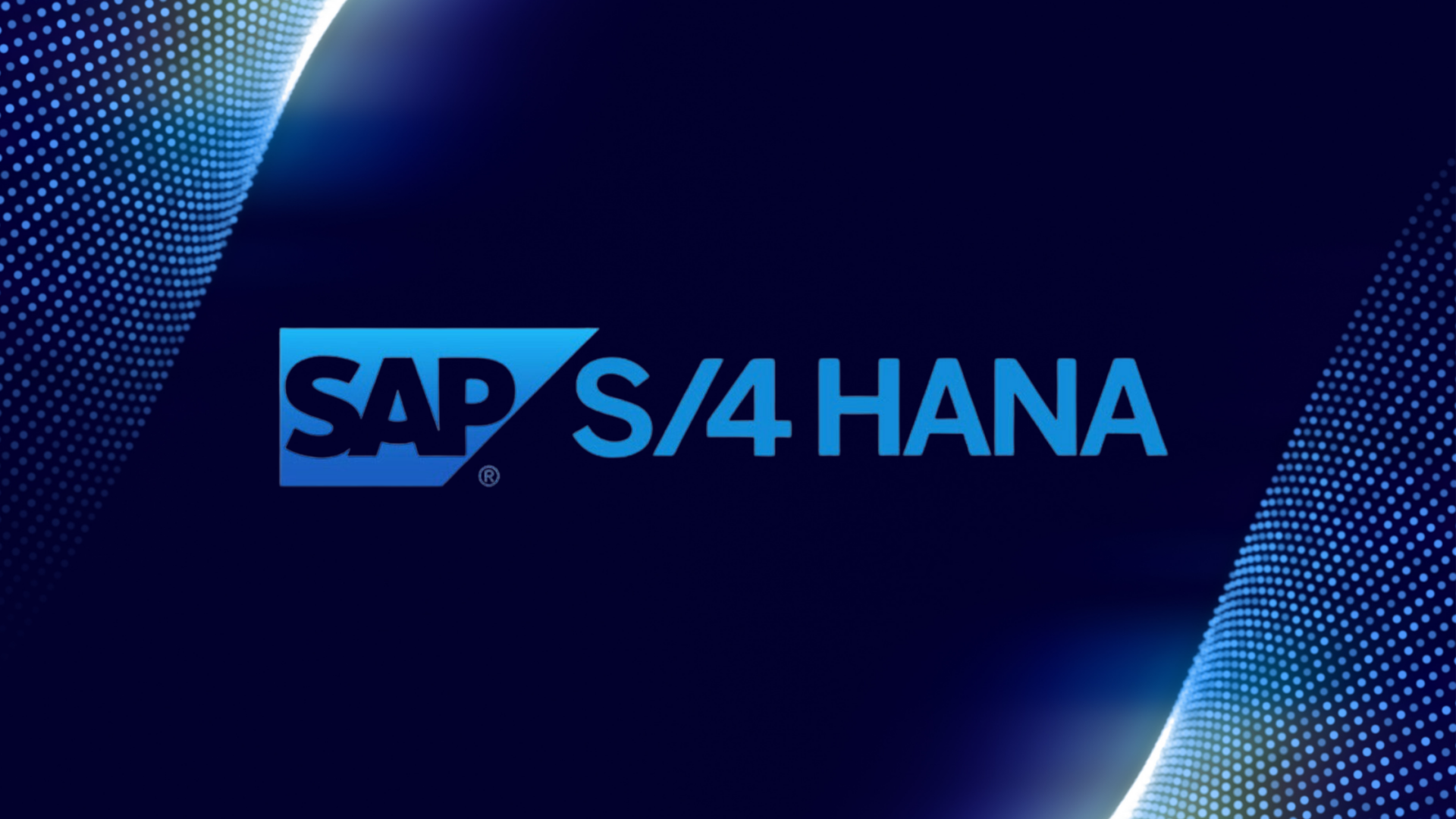 ---
Why Engage in Digital Migration?
Digital migration is becoming increasingly important as more and more organisations operate in a globalised, interconnected world. Businesses must complement or replace their legacy systems and processes. These legacy systems are rigid, slow and impact business performance. Currently, there are different use cases of digital migration to S/4HANA of which the two most important are pre- and post-migration. These are Apolix's areas of expertise. Besides, firms can decide to either engage in Brownfield or Greenfield migration.
Process Mining using Celonis can contribute in a myriad of ways. For example, for Brownfield migration, process mining can help identify the most efficient processes. It standardises and optimizes these to be implemented in the improved system. On the other hand, with a Greenfield migration an entire new system is implemented. Here, process mining can be helpful for customised and more complex processes. It can contribute to showing activities and processes that should be relevant in the newly implemented system.
Challenges when Engaging in Digital Migration
The implementation of digital migration within organisations poses significant challenges for various reasons. Primarily, achieving alignment between IT and business functions proves to be a difficult task. Often, managerial KPIs require different functionalities than the IT-systems can offer. Furthermore, there is a considerable operational risk involved, compounded by a lack of comprehensive understanding of process issues.
Additionally, the expenses and resource requirements associated with digital migration are substantial, and there is often uncertainty regarding the return on investment following the implementation phase. It is noteworthy that many organisations exhibit less than 50% process visibility prior to embarking on a digital migration project. Consequently, it is of extreme importance to focus on process optimisation that involves understanding as-is processes to achieve the desired value from the project.
How can Process Mining utilising Celonis support Successful Digital Migration?
Process mining can play a key role in facilitating digital migration and thus tackling these challenges by providing organisations with a roadmap on how to streamline their operations and take advantage of new technologies. By analysing existing processes and identifying areas for improvement, process mining tools can help organisations gain tangible benefits on multiple operational levels. Continuous improvement is crucial for organisations in order to keep up with the constant evolving landscape. Process mining contributes to this by first understanding the process (discovery), but also supporting the design of processes for the business and solution (design).
Lastly, it tracks business adoption and continuity to ensure ROI and success. The image below shows the different phases of process mining using Celonis. This is also called 'The Happy Path' and shows four different business objectives for digital migration to S/4HANA transformations and its key metrics and improve opportunities. As can be seen, process mining contributes to each business objectives in many ways by using harmonisation and fact-based analysis among other things.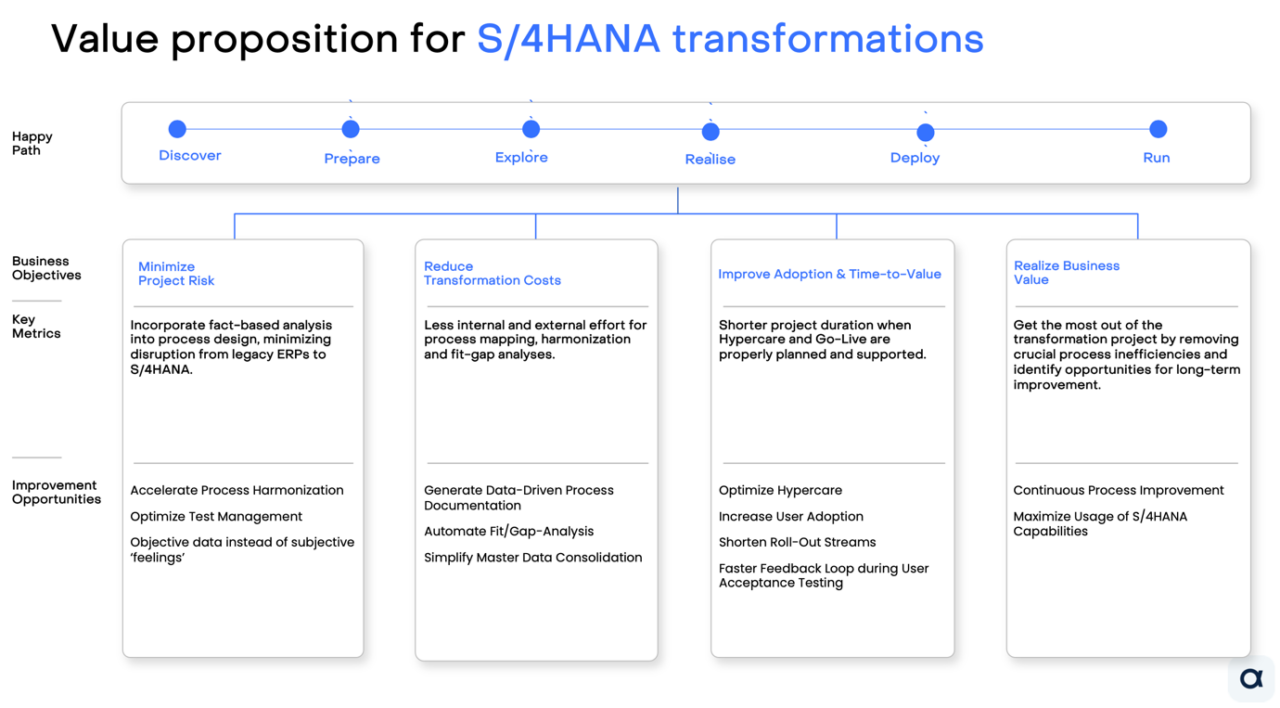 Conclusion
In conclusion, digital migration to S/4HANA is becoming increasingly important for organisations looking to future-proof their operations and leverage the latest technological advancements. Process mining, particularly using Celonis, can play a crucial role in facilitating this migration by providing insights into streamlining operations and optimising processes.
Whether it's a Brownfield or Greenfield migration, process mining can help identify efficient processes and standardize them for implementation in the improved system. Despite the challenges involved in digital migration, such as aligning IT and business functions and managing operational risks, process mining tools can provide organisations with a roadmap for process optimisation. Continuous improvement is key, and process mining supports the discovery, design, and tracking of processes for business adoption and continuity. Overall, process mining using Celonis can contribute significantly to the success of S4HANA transformations. While digital migration poses a huge challenge and risk, process mining can be the right tool to mitigate this. At Apolix, we have experience with pre- and post-migration use-cases, and we are ready to help your company achieve its fullest potential.
Interested to find out more? Get in touch!
---