Frictionless manufacturing
Process mining can support the stabilization of manufacturing production by avoiding production stops, enabling trustworthy planning, and guaranteeing high-quality assurance. Manufacturers can increase the robustness of their operations by gaining real-time insights into the entire production process and automating processes. Process mining can also anticipate unexpected maintenance and irregularities to avoid unforeseen delays and high late delivery fees. Manufacturers can guarantee product quality and reach the highest levels of customer satisfaction with improved process conformance and trustworthy reporting.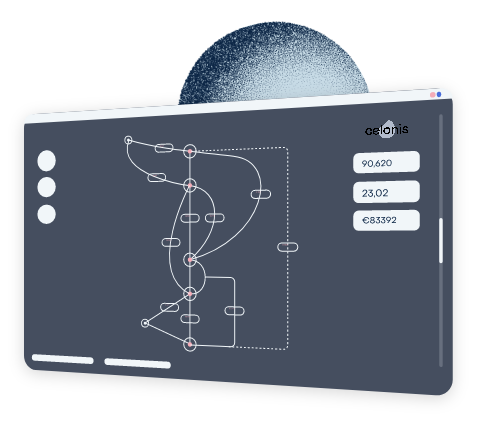 Challenges
Due to a number of factors, including supply chain disruptions, resource management, quality control, regulatory compliance, and rapid technological advancements,  achieving manufacturing excellence can be difficult. Manufacturers must effectively manage their resources, strike a balance between cost-effectiveness and efficiency, and guarantee uniform product quality. To remain competitive, they must also adhere to a variety of laws and standards while keeping up with innovations and new technologies. For manufacturing excellence, finding and keeping skilled workers is essential, but in today's fiercely competitive job market, it can be challenging.
1
Predictive maintenance
Process mining can predict when maintenance is needed and prevent equipment failure. This reduces downtime and increase productivity. Process mining provides real-time insights into production processes, allowing manufacturers to quickly respond to changes in demand or supply chain disruptions.
2
Root cause analysis
Process mining identifies the root causes of production problems, addressing the underlying issues and prevent problems in the future. Additionally, the quality of products can be monitored ensuring consistency and minimising defects.
3
Supply chain optimization
Process mining optimises the supply chain by identifying bottlenecks and inefficiencies. This can improve lead times, reduce inventory costs, and increase customer satisfaction.
4
Reach automation potential
Automating tasks and standardising processes increases efficiency and reduce errors. Continuously analyse and optimize production processes, leading to improvements in quality, efficiency, and customer satisfaction.
Cases
Related resources to manufacturing