Frictionless Finance
Order management is the first step to engaging in a strong, long-lasting customer relationship. The process starts with receiving an order, subsequently shipping the product and having the customer pay the invoice. Having an effective and reliable order management process is a challenge for most firms, which can eventually lead to losses if not managed properly. Improving your Order Management with Process Mining has a strong effect on customer satisfaction and helps you reduce costs while increasing revenue. For this, you need to identify your weak points and timely act on them.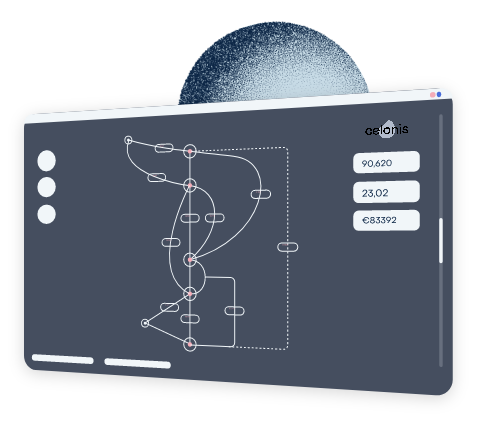 Challenges
Late deliveries have a negative impact on the performance of a company's order management process since these impact different areas such as customer satisfaction, working capital and penalties. Root causes include insufficient internal communication, bundled orders being on hold, credit blocks and logistical delays. Therefore, to deliver your order on time and in full quantity (OTIF), it is vital to have a deep understanding of internal and external factors that play a role in your supply chain. Late deliveries can lead to substantial manual effort and decrease customer satisfaction and even to the customer needing to return the product. Even if these issues are avoided by spotting and fixing the issue before the shipping date, the rework generated to fix the issues increases costs and increases pressure on your supply chain.
Our solution
1
Improve OTIF
Improve on-time deliveries and pinpoint the root causes behind late deliveries. Automatic reports helps prioritise and allow for immediate measures to diminish the costs of late deliveries.
2
Reduce errors
Process mining identifies in which activities mistakes occur during the process that led to returns and allow for immediate precautions. Through pro-active notifications employees can be notified to act and diminish the orders cycle time immediately.
3
Boost labour productivity
Credit blocks are often falsely given to customers with a high order volume and are reliable in paying their invoices. Process Mining identifies which customers falsely receive credit holds and automatically release those credit holds.
4
Straight through processing
In the optimal scenario, larger firms aim to have sales orders fully automated. However, the reality is still far from a fully automated order to cash process. We help firms identify their current automation performance and prioritise activities to automate first.
Cases
Related resources to order management