Case – Call Centre Customer Service
In this article, we take a closer look at the potential benefits of process mining using an analysis of a customer call center as an example. By examining over 3,800 cases, we were able to identify bottlenecks and inefficiencies in the process, and develop strategies to address them. From reducing the number of reoccurring calls to identifying best practices of the most efficient agents, our analysis highlights the significant cost savings that can be achieved through process mining. If you're interested in learning more about how process mining can benefit your organization, read on for a closer look at our analysis and the results we achieved.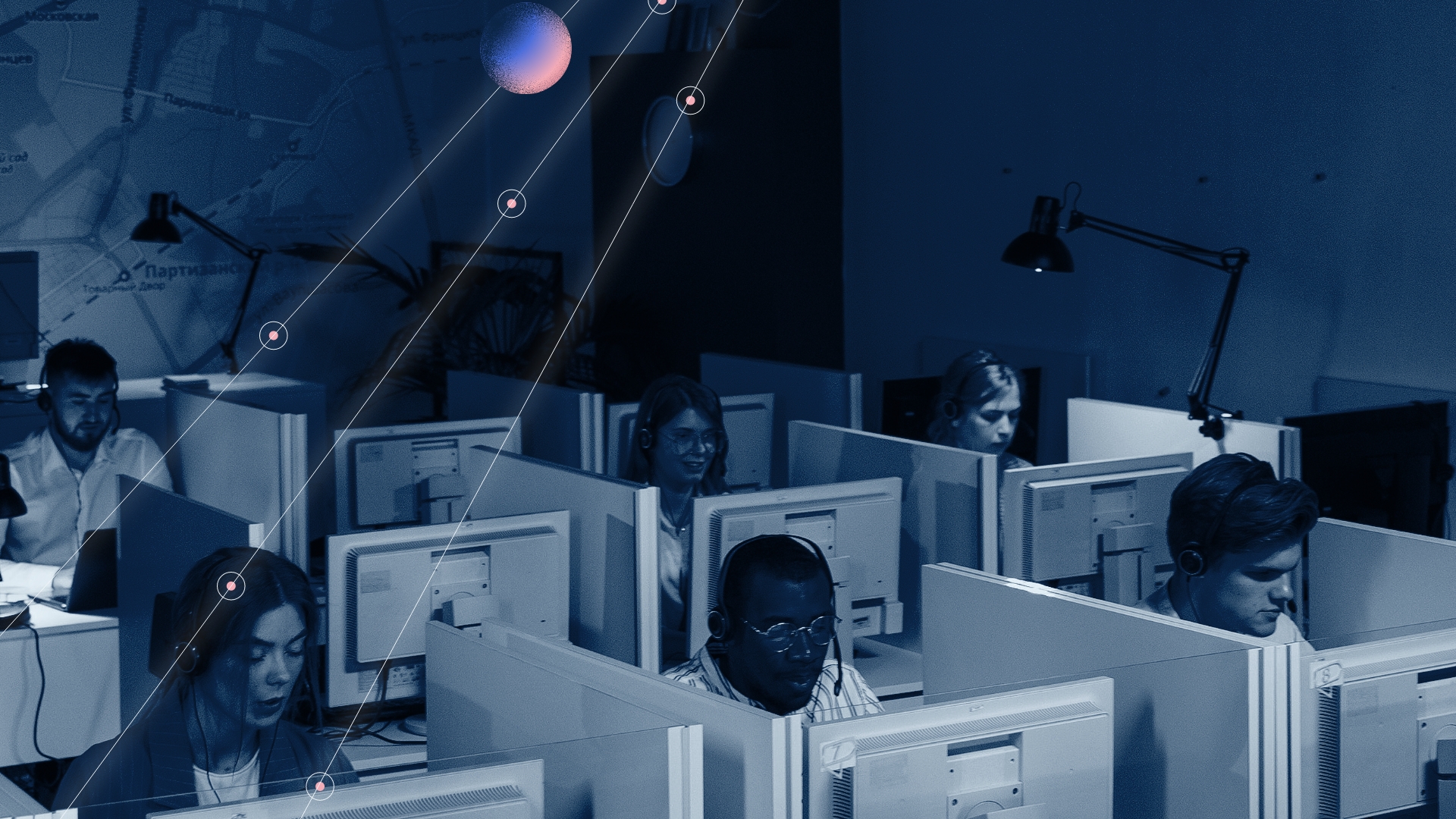 ---
The concept of process mining is relatively unknown to the majority of organisations. Therefore, at many of our prospects we start by explaining the fundamentals and added value of process mining. These benefits include transparency in your processes, compliance checking, process enhancement and continuous improvement. Regardless of the significant value each of benefits offers, it can be challenging to picture how this concept adds value to your organisation.
To give a better understanding of the business impact, we build a business case for the potential costs savings. For our customers we take a look at their data in a proof of value, to create a transparent process and identify inefficiencies. Based on these initial results, a business case is built. To explain how we translate these benefits into actual numbers, we created an example analysis of a customer service call centre*.
Customer Call Centre Analysis
In this analysis we look at 3,885 call centre cases over a period of 2 months. The data fulfils the data requirements with the CaseID, operations as Activity and Timestamps (Unsure what the data requirements are? Read our introduction to process mining blog here). Moreover, the data gives context about the agent operating on the case, the product of the customer, and what service has been offered. The activity tart and end timestamps gives us insights in the handling time for each operation. The picture below maps the most frequent activities and paths of the process.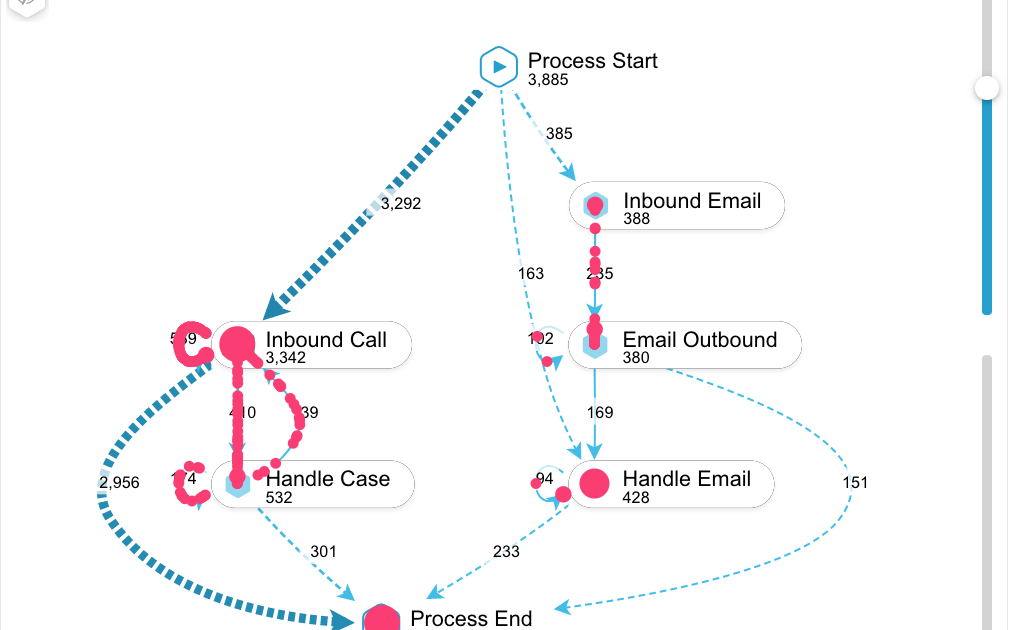 The red dots represent individual cases going through the process. This snapshot indicates that bottlenecks are present around the activity 'Inbound Call'. The following question might rise: Why do people call more than once in 539 cases? Similarly, the 'Handle Case' activity's inbound paths seem to be a bottleneck, which indicates the speed of handling cases significantly influences the process.
In the first step to create value, we look for bottlenecks and rework activities. Afterwards, we identify the root causes of these inefficiencies. First, reoccurring inbound calls. We notice that customers are referred to service in 70% of these 539 cases. Secondly, once filtered on cases with the activity 'Handle Case', we identify a significant difference in the handling time between employees. For example, over the span of 89 cases, David took on average less than a minute per case. On the other hand, Jochem spent on average 12.5 minutes for each of his 30 cases.

Benchmarking between employees or services is an effective method to become more efficient. Its goal is to create best practices, standardise processes and save time. In an analysis we benchmark a larger number of employees to find causes for differences in handling time. As a result, best practises can be derived and taught to the entire workforce.
In the last step to create a business case, we estimate the time that can be saved by optimising the bottlenecks. For the reoccurring inbound calls, we know that the 'Referred to Servicer' service is responsible for 70% of the 539 cases. An opportunity is to lower the number of reoccurring calls and estimate the savings caused by this decrease. We assume an average employee costs €23 per hour and spends 4.28 minutes per inbound call. Consequently, a decrease in reoccurring inbound calls of 25% results in a mere €932.17 in annual savings.
The second opportunity is to identify best practises of the most efficient agents. We benchmark employees by their average handling time per operation and find the top performing agent. To translate this opportunity into value, the weighted average handling time of these agents per operation are set as a goal. Moving on, we estimate that 50% of the activities will be performed at the higher level after best practices have been taught. The other 50% of operations remain at the previous level. Subsequently, we compare the handling time of all activities prior and after the introduction of best practices, which results in €158,507.27 in annual savings.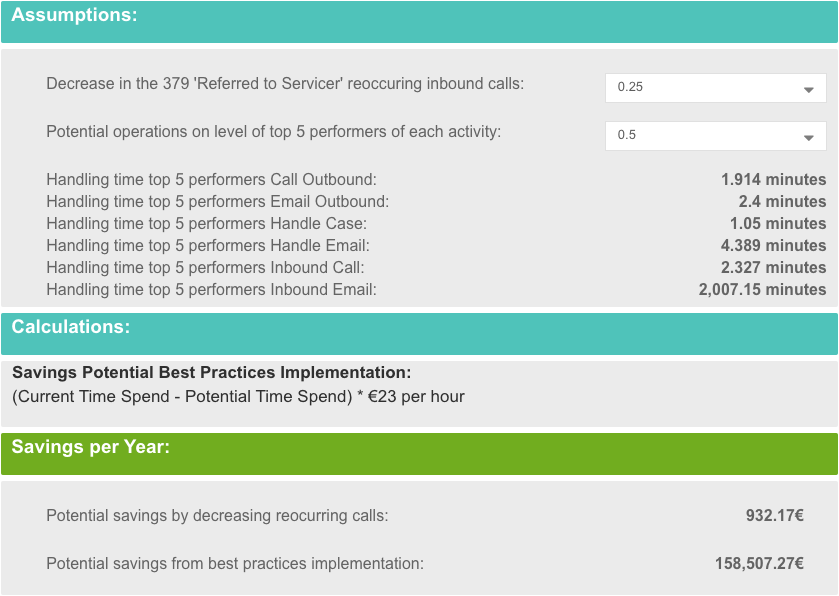 As shown in the picture, both results are based on estimations. In a proof of value we provide different scenarios, in order to make the business case as realistic as possible. At the end of this blog you can find a link to the dashboard, which enables you to change both estimations and the impact on the business value.
Regardless of the estimations, the business case indicates the potential savings by implementing best practices are significantly higher. Therefore, the focus of a project will be teaching these best practices and monitor the effect on the process, to reach the potential savings.
Process Mining with Apolix
This analysis of a call centre shows how a business case for process mining is build. If you want to take a look yourself at this process mining dashboard, please click here!
This dashboard has been built in Celonis Snap, which is the free process mining platform of Celonis. We use this platform regularly for demo purposes or quick analyses. One of the reasons Apolix uses Celonis Snap instead of other software is the easy to use interface, the secure cloud environment and the free online training. You can sign up for Celonis Snap here and get started with process mining right away!
Do you have any questions about the Celonis (Snap) software or need help with your process mining projects? Please, feel free to reach out to joost [@] apolix.global, we are more than happy to help you.
Interested to see where process mining can add value in your organisation? Apolix is specialised in process mining, so do not hesitate to contact us! As specialists with a background in business, Apolix looks further than the data as we also take the human aspect into account.
*The data is part of the 'Disco Demo Logs' of Fluxicon B.V. and can be found at https://fluxicon.com/disco/.
---