Online User Tracking – E-commerce
Are you curious about how process mining can help your e-commerce business? Online user tracking of webshops has drastically reshaped the modern marketplace. Companies like Google provide valuable insights into user demographics and behaviour but also present risks for businesses like Protein Shakes B.V. By combining server-side tracking with client-side tracking, businesses can mitigate these risks and obtain a complete picture of the client journey. Keep reading to discover how process mining helped Protein Shakes B.V. achieve success and how it can help your business too.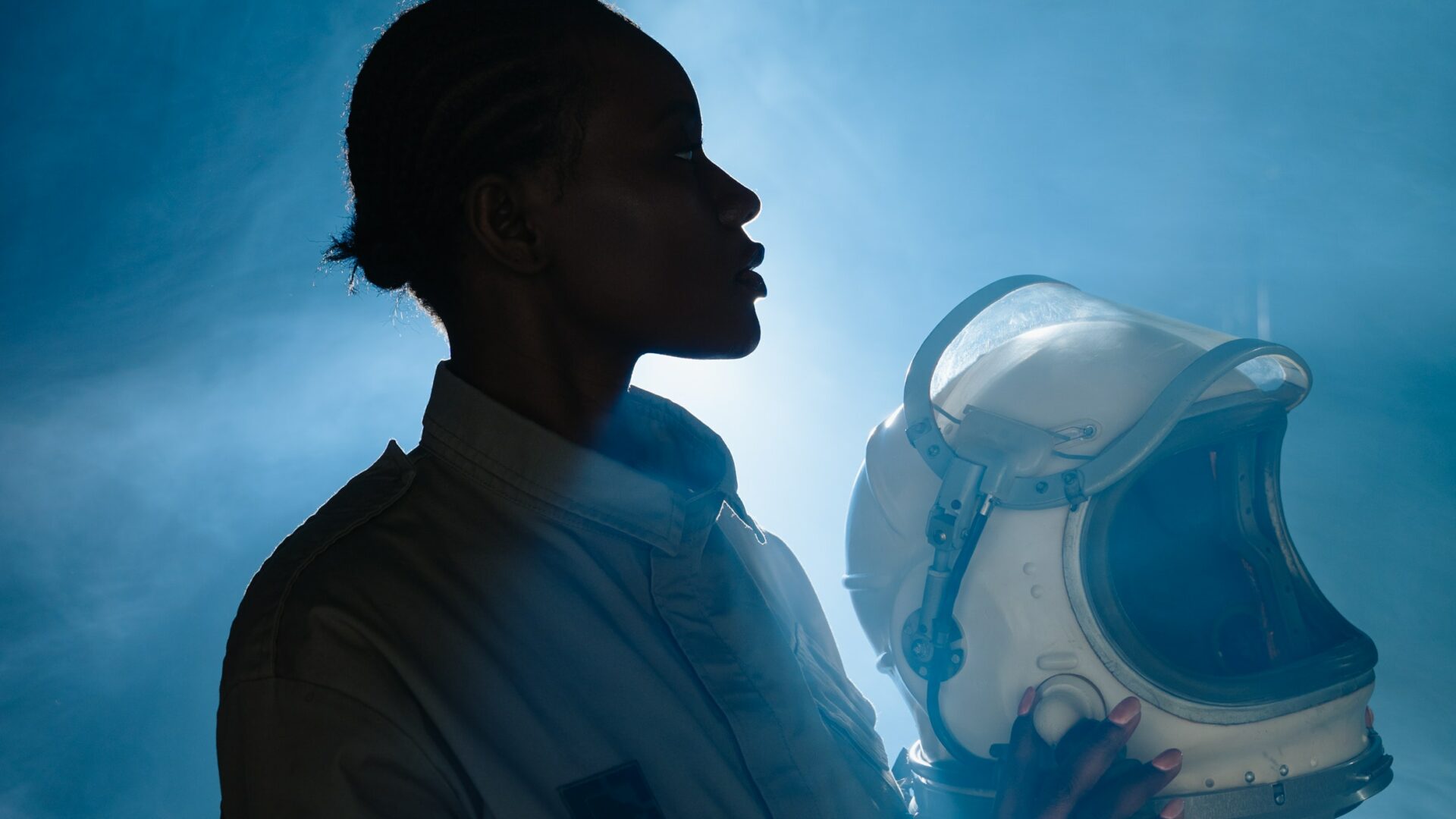 ---
You don't need to be a business expert to know that online user tracking of webshops has reshaped the modern marketplace. E-commerce allows you to grow your customer base without the need to invest in new physical stores. Yet, it doesn't mean customer experience becomes one bit less important. The websites' appeal converts visitors into customers. To demonstrate how process mining for e-commerce helps your business, we look at the hypothetical business Protein Shakes B.V.
Protein Shakes B.V.
Protein Shakes B.V. started off by selling protein powder through their e-commerce channel. To continue their success, they expanded their offerings with pre-workouts, vitamins, supplements, and a variety of drinks. As all sales go through the webshop, optimising the user flow and minimising process paths that do not lead to a sale, is Protein Shakes' key to success.
Like most websites, Protein Shakes B.V. use Google Analytics to track how users interact and move through their website. As the tracking occurs in the user's browser, we call this client side. Such online user tracking of e-commerce stores has prooven to be highly effective. Companies like Google allow insights into the demographics of users, like age, location and interests. To exploit them, Protein Shakes B.V. linked these insights to their Google Ads account, enabling targeted ads. In this sense, the Google Universe (or Facebook and others) makes tracking and targeted ads extremely easy and user friendly.
However, as Google store your data all and only show aggregate data, Protein Shakes B.V. loose control over their data. Hence, they run into four main risks:
Ad BlockersWith the rising usage of Ad and Tracking blockers, around 10-15% of users are 'missing' and fail to show up in any tracking metrics.
Data securityProtein Shakes B.V. may not want to show all of their data on the client side. As an example, it is useful to include profit margins to estimate ROI. However, by doing so, the data is passed to Google through a data layer. Consequently, this sensitive data becomes visible to users and competitors.
Transparent overviewProtein Shakes B.V. also lose insights into the complete client journey. As Google cannot combine website activity internal steps such as credit checks and inventory checks, it is not possible to integrate this data into one analysis.
Advanced analysesBy limiting you to only client side tracking, Google gain control over the data. As a result, Protein Shakes B.V. is only granted the view to aggregate versions and without any export option. This excludes the possibility to use other analysis methods, like process mining.
Server- and Client-side tracking
Therefore, we advocate employing server-side tracking in combination with client-side tracking. With server-side tracking, the actions of a user are sent to and stored at your own server. Consequently, you have complete control of what you record. For example, you can analyse the website behaviour of clients that returned their product, as it failed to meet expectations. These valuable insights are impossible to gather with Google Analytics, as it does not link to any non-website behaviour. In summary, server-side tracking allows you to store client data on your own server and link it to the other client touch points, thus, enabling a complete picture of the client journey.
Another use case is analysing the channels and behaviours that bring you the clients with the highest profit margin. Even though this is technically possible with Google Analytics, it requires you to publish sensitive information to the user's browser (by using data-layers).
Thus, the combined use of client and server-side tracking has significant benefits. It mitigates risks, and allows you to create powerful analyses and track client behaviour through process mining.
General Findings
Protein Shakes B.V. decided to implement server-side tracking; tracking users, orders, and website activities. In combination with order size, the source of the user and the number of times a user ordered, we managed to obtain a clear picture of user behaviour, and the essential steps for a successful conversion.
As expected, the majority of users started their journey on the home page. Afterwards, they tend to explore the auxiliary pages such as "About Us", the "Blog", and the "Contact" page. This indicates that most users visited the site with the intent to find information and no direct purchasing intent. We can for example improve the client's experience by enabling an easier access to information. Addititonally, we can re-direct the client straight to a product page if they show a clear purchasing intent.
Findings – User Source
While around 75% of users entered through paid and organic search, only around 17% came through referral traffic. Meanwhile, 73% of the order value was derived from these referral orders. When drilling down, we see that all of this is blog related traffic. Indicating significant future potential in this avenue and that blog related marketing should be prioritised. Furthermore, as these users have a relatively high purchasing intent, Protein Shakes B.V. should adjust their website experience accordingly. For example, they should test the effects of sending these users directly to a product page related to the blog.
Findings – Exit During Order Process
There are various reasons for a person to exit the order flow, but one stands out in particular. Namely, 43% of cases flow through the "Contact" page. Moreover, for around 50% of these cases, this was also the last point of contact. Usually, we see a higher purchase intent for users that visited this page. Therefore, it is worthwhile to investigate what kind of questions these clients had. This will help identify the root causes for the failure to convert these cases to an order.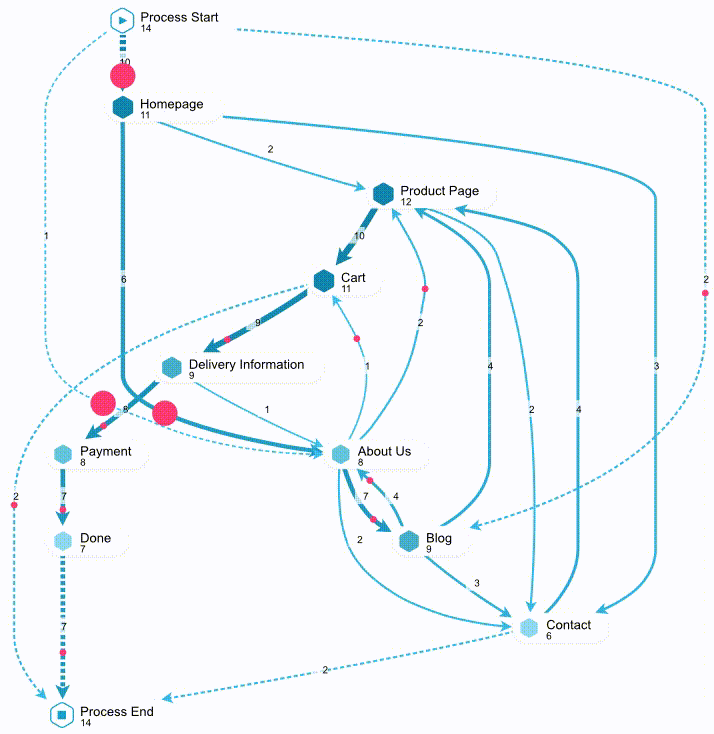 Next Steps
Process mining has identified multiple insights that Protein Shakes B.V. will look into to improve their sales. Furthermore, once actions have been taken, process mining for e-commerce is used to monitor the progress in real-time. As a result, you will be able to make dynamic data-driven decisions. This can even be expanded to triggering automatic actions within your internal systems. Your workers will automatically receive relevant notifications, your ERP system will automate standardised steps and much more.
As data specialists, Apolix are here to help you on this journey. We support setting up initial analyses, educate your workforce, and offer strategic advice on your analytics strategy. Moreover, as data enthusiasts, we love to explore new opportunities to put your data to work – Are you curious about how online user tracking can make your organisation more efficient? Reach out to alex@apolix.global! We love to discuss this over an (online) coffee!
---